Houston innovators needn't have been wary of the March Ides of this year. With all the excitement at SXSW, CERAWeek, and Houston Tech Rodeo this month, there were some titles you might have missed.
In this roundup of short stories within Houston startups and tech, Houston startups announce new funding and partnerships, while a Texas VC raises its biggest fundraiser yet.
Tekmetric Closes Recent Fundraising
A Houston software company has raised an undisclosed amount of funding. Photo via tekmetric.com
Tekmetric, a cloud-based shop management system for automotive repair shops, announced the closing of its growth investment from California-based Susquehanna Growth Equity. Details of the round were not disclosed, but, according to a press release, the new funds will go towards growing Tekmetric's engineering and technical teams and expanding across the United States.
Launched three years ago by co-founders and co-CEOs Prasanth Chilukuri and Sunil Patel, Tekmetric's SaaS solution provides store owners with digital inspections, integrated payments and other business needs.
"Since our launch in 2016, Tekmetric has always aspired to deliver the greatest possible value to automotive repair shop owners who partner with us to run their business," Chilukuri said in the release. "Susquehanna's deep industry expertise and support for product-driven growth make the company an ideal partner as we grow our business, reinforcing our platform's advanced products and delivering the highest level of service to our customers."
The platform offers both comfort and security to its users.
"As a former store owner myself, I know how difficult it can be to find a system like Tekmetric that store owners can trust for their business," says Patel. "At Tekmetric, we strive to build strong relationships with our users to support their business growth. The SGE team has the same mindset, making them an ideal partner as Tekmetric continues to grow in the industry.
The Postage taps new financial planning partner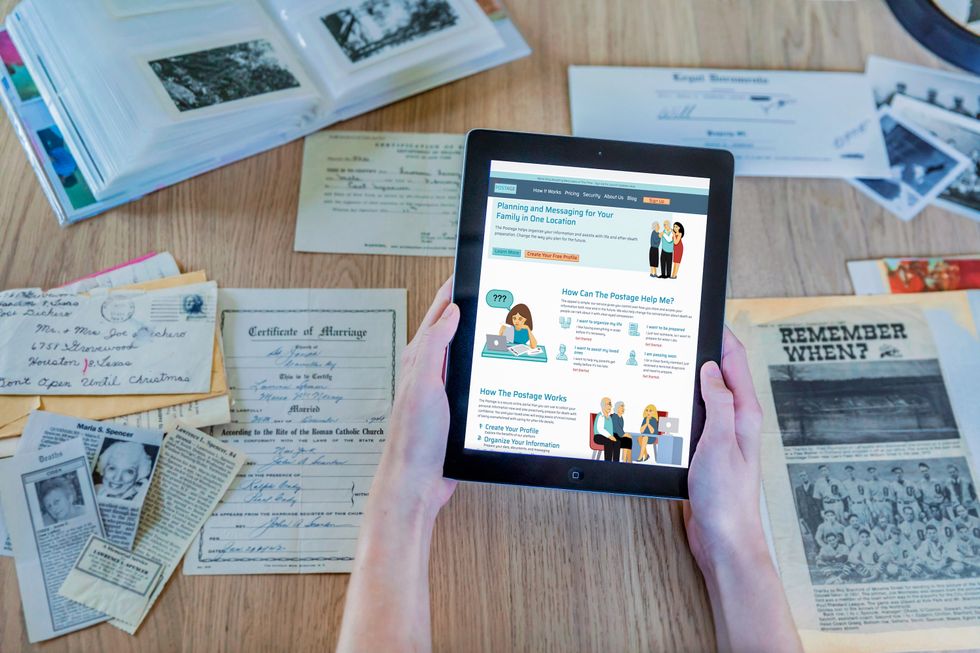 La Poste has a new strategic partner. Photo courtesy of The Postage
Houston-based estate and estate planning software platform
postage announced a new partnership with Austin-based Whitwell & Co., LLC, an investment management and financial planning firm.
The postage platform, which will now be available to Whitwell customers with the new collaboration, ranges from managing important information and documents to creating estate planning documents, end-of-life planning and memory and message storage.
"Whitwell & Co. is focused on supporting its clients through the myriad of choices that present themselves during planned and unplanned life events and transitions. The Postage fits right in with that, and we're thrilled to have the opportunity to share our platform with their clients in their planning and organizing efforts," said Emily Cisek, CEO and Co-Founder of The Postage. "Our hope is to raise awareness of the streamlined digital solutions available and provide Whitwell clients with the ability to create estate planning documents, easily store and protect critical information that families will need access to at all stages. of life. We look forward to providing Whitwell & Co. customers with a comprehensive planning and preparation service that provides peace of mind for their families.
The B2B partnership takes effect this month. The Postage, which was founded in 2019, also closes its crowdfunding campaign on April 4.
"As a company, we are built on the principles of an innovative approach to investment management and financial planning," says Stefan Whitwell, CEO of Whitwell & Co. "This partnership is an important approach for us to d 'to offer our customers as we move into the digital age. Having worked with families who have had to deal with the loss of a loved one, I see the need for a service like The Postage. Too often, many are not unsure of next steps, where to find documentation, and even last wishes."
Austin venture firm with Houston portfolio companies raises $240 million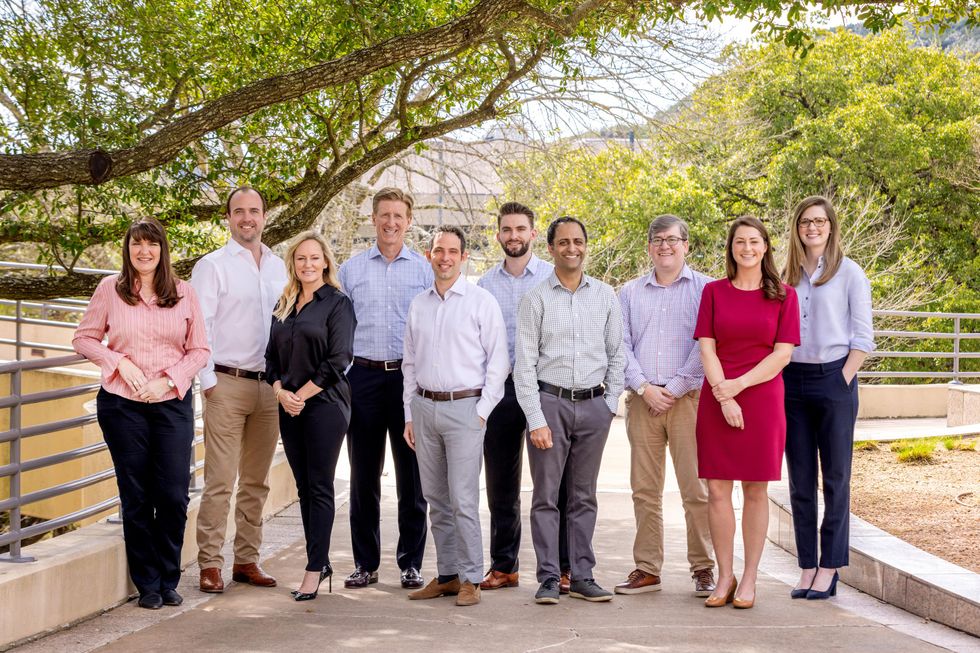 S3 Ventures has new funding and eyes for Texas startups. Photos via S3
Billed as the "largest venture capital fund focused on the state of Texas," the recently announced $250 million Fund VII from S3 Ventures focuses on investing in Texas startups.
S3 Ventures typically invests between $500,000 and $10 million in Seed, Series A or Series B rounds with the ability to invest over $20 million over the lifetime of a business. The firm has made over 50 investments since its inception in 2005 and has over 25 active portfolio companies and over 20 exits.
"In our first 17 years, we have been fortunate to partner with truly visionary founders who have transformed the way we work, live, and heal," says S3 CEO Brian R. Smith in A press release. "We look forward to working with many more in the years to come."
The company has Houston startups in its portfolio: BrainCheck, an interactive cognitive assessment and care planning technology provider; Saranas, an early bleeding detection system; and BuildForce, a construction labor market.
"We believe that by 2030, Texas could be the second-largest tech ecosystem in the nation," Smith said. "This growth is being driven by long-term demographic shifts and widespread economic strength in not only Austin, but also Dallas, Houston and San Antonio."
Saranas announces a new patent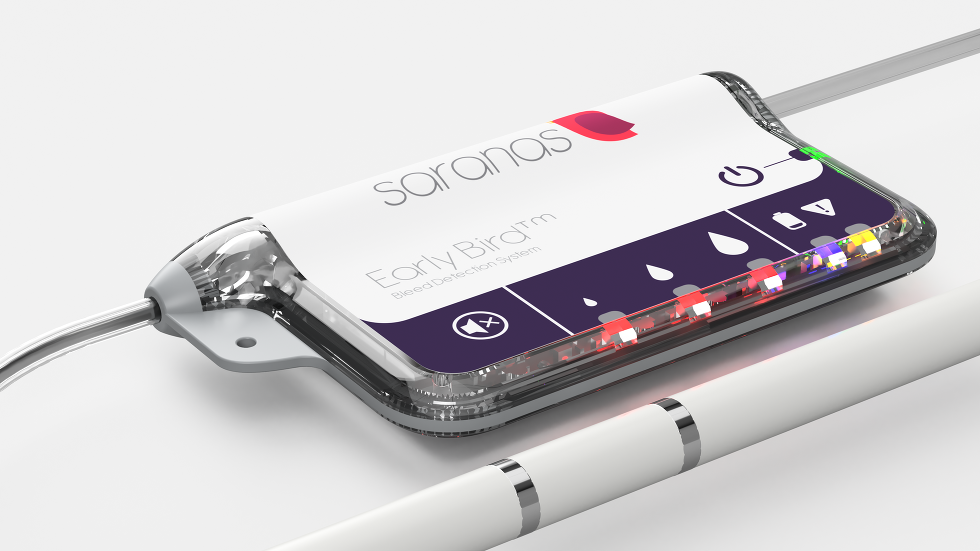 This Houston medical device company has taken the next step in commercialization. Photo courtesy of Saranas
Houston-based early bleeding detection medical device company Saranas has been granted a new patent by the US Patent and Trademark Office of the Department of Commerce. The patent, titled "Access Closure with Bleed Monitoring", allows a vascular access closure device to be integrated with the company's proprietary bleeding monitoring technology.
"As we continue to grow our commercial presence with Early Bird, we are excited to obtain this important patent designed to further expand the implementation of our differentiated bleeding monitoring technology," said Saranas CEO James Reinstein. , in a press release. "This patent award demonstrates Saranas' commitment to innovation and further strengthens our intellectual property portfolio."
In late 2021, Saranas announced its first patient in its clinical trials at Morristown Medical Center in Morristown, New Jersey. The trial will eventually enroll up to 265 patients across the United States
"We have used the Early Bird in our clinical practice for two years, and the current design of incorporating a fully functional introducer sheath with bleeding detection allows for seamless integration into high-risk interventional cardiovascular procedures," said Dr. Philippe Généreux, cardiologist, says. "Integrating bleeding detection directly onto a vascular closure device is the potential next step and has the potential to become the standard of care for all types of vascular access procedures."
DECISIO announces a new product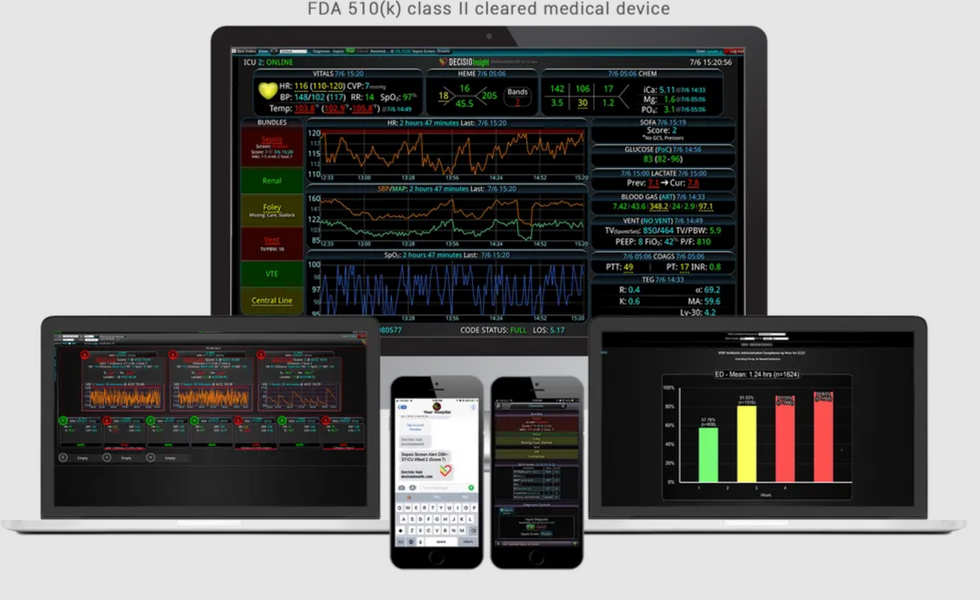 DECISIO has a new product on the market. Photo via decisiohealth.com
Houston-based DECISIO has created a suite of customizable clinical decision support tools and announced a new product: EnvisionIQ. The new tool provides real-time and customized compliance reporting templates to improve operational efficiency.
EnvisionIQ is a hospital's real-time data and visualization solution that enables healthcare systems to benchmark their clinicians, units, and hospitals to accelerate improvements, reduce variation, and accelerate data collection for patient reporting requirements. agencies.
"Clinical benchmarking tools are essential for healthcare systems to quickly identify opportunities for improvement that have substantial impact. Adding EnvisionIQ to our product portfolio enables DECISIO to provide comprehensive monitoring and analytics platforms that benefit hospitals in many ways," said Paul Sinclair, Director Revenue Officer at DECISIO, in a statement.
Customers can leverage DECISIO's new product with or without integration with its flagship product, InsightIQTM, which launched in 2015. The company raised a Series B round of $13 million in 2019.